MMORE TIME SPENT on devices has led to higher rates of myopia, which now affects one in three American children. It is predicted that half of the world's population will be myopic by 2050 with nearly one billion high myopes. Popular treatments include atropine eye drops, nighttime ortho-k contact lenses, and daytime soft multifocal CLs. Coming soon to the United States, bifocal glasses from Essilor's Stellest lens, HOYA, and DIMS, with its HALT technology. Recently, EssilorLuxottica and Cooper Companies finalized their SightGlass Vision joint venture to develop spectacle lens technologies for the management of myopia. To treat myopia in children, Treehouse Eyes has centers in Virginia and Maryland, but also partners with independent ECPs so they can benefit from their training, marketing, and treatment protocol.
Viewing technologies
NaturalVue Multifocal 1-day contact lenses use patented Neurofocus Optics technology to retain images inside the retina.
(844) 884-5367 | vtivision.com
Treehouse Eyes
The Myopia Treatment Decision App, or MY-TDA, is a mobile app available exclusively to Treehouse Eyes partner practices. It allows doctors to determine the risk and progression of myopia to confirm that treatments are working, currently in around 50 practices.
Advertisement
OptoPlus
MyoStop smart lens can provide clear vision for children with myopia.
Cooper Vision
MiSight 1 day myopia control soft contact lenses are the first FDA-approved product proven to slow the progression of myopia in children ages 8-12 at the start of treatment.
(800) 341-2020 | coopervision.com
SynergEyes
The SynergEyes iD Multifocal Extended Depth of Focus (EDOF) hybrid lens is individually designed for all distances.
(877) 733-2012 | synergeyes.fr
Johnson & Johnson Vision
Acuvue Abiliti is an FDA approved night ortho-k contact lens for the management of myopia.
(877) 334-3937 | seeyourabiliti.com
Clever uses
Myopia management tools
Ashley Wallace-Tucker, DO
Bellaire Family Eye Care, Bellaire, TX
We talk to patients about myopia as a pathological entity, not as myopia. We explain the need to focus on preventing side effects like retinal detachment and glaucoma. We are most concerned about myopia in children, where it progresses rapidly. My favorite treatments are daytime CL lenses and nighttime ortho-k lenses. I like the daily disposable MiSight from CooperVision. They also offer a monthly disposable, Biofinity. I use the NaturalVue multifocal lens and a SynergEyes hybrid lens. Multifocal is the most effective design for myopia. To slow myopia, children can take atropine drops once a day. I suggest lifestyle changes like good lighting when reading and more green time, less screen time. Most nearsighted parents want something better for their children. when I break it down, they're ready to step in.
Katherine Schuetz, DO
Little Eyes Pediatric Eye Care, Carmel, IN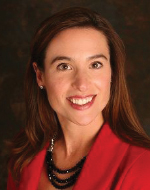 We have built a myopia control practice over the past seven years and I enjoy giving my honest opinion to patients. The options I recommend are ortho-k CLs, atropine eye drops, and MiSight CLs. My last choice is bifocals, which tend to be more effective in patients with esophoric posture. I educate parents on the options, but also involve the children in the conversation. If they are not ready for CL, we use different varieties of atropine drops and check them every three months. If there is a year of stability, we will see them every six months. It depends on the motivation of the parent and the patient. We already have 6 and 7 year olds in ortho-k. Our staff are excellent at making sure the follow up takes place.