02/10/2022 – Middlesex, New Jersey: With a history of chocolate, flowers, cards and balloons, Valentine's Day has gradually become more than just a standard gift for your loved one.
In fact, various gifts can send the message you envision and think about your loved one with extreme depth.
Even safety glasses.
Giving safety glasses as a Valentine's Day gift is a great idea as we think about how to protect those we love. While chocolate and flowers are great inducements, safety glasses are a practical and dependable gift that emphasizes wellness.
So let's go.
In this article, we will discuss several frames that we think would be perfect for a loved one on Valentine's Day.
But first, a bit about the brand behind the product.
RX security at a glance
RX Safety is the premier online store for prescription safety eyewear, as well as performance eyewear. They offer a variety of frames and designs with safety as the top priority.
In fact, most of RX Safety's designs are ANSI certified, making them extremely safe and perform well in many work environments.
A family brand, RX Safety is passionate about research and technology, and brings premium designs to the lives of those who need them most. They believe safety is a right, not a luxury, and manufacture durable yet affordable products and innovative eyewear with the wearer in mind.
Now that you know a bit more about the brand, let's move on to some of these great safety glasses that will amaze your loved one with both thought and gift.
Prescription Safety Glasses RX-15011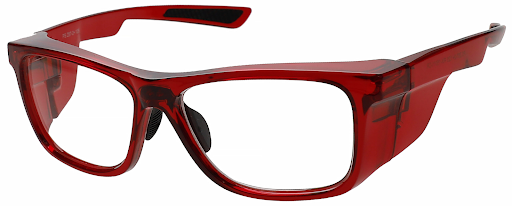 The RX-15011 prescription safety glasses are one of our best-selling frames, making them perfect for the ultimate Valentine's Day gift.
It is a rectangular frame with permanent side guards for added protection, making the safety of your loved one a top priority.
They are also extremely durable, as they are made from TR-90 nylon. And with rubberized nose pads and temples, which provide a secure and comfortable fit without the risk of slipping off the face.
What's great about these frames is that they meet ANSI and European standards for a high level of protection, while being affordable.
Lastly, they come in a variety of stylish colors, allowing you to flaunt your love's unique style or preferences as well.
Prescription Safety Glasses T9730

The T9730 prescription safety glasses are a stylish cat eye frame for women.
They have built-in side guards for extra protection, maximizing your loved one's safety potential. They also feature rubberized and adjustable nose pads, providing an extra level of comfort on the job.
They are extremely trendy, coming in several unique colors, while being safe. Indeed, these glasses are ANSI Z87+ certified, approved by rigorous standards, offering a high level of protection.
RX-Q300 Prescription Safety Glasses

Another of our best-selling safety glasses, these stylish black frames are extremely versatile and perfect for a Valentine's Day gift.
You can wear them as safety glasses with side shields for extra protection, but you can also remove the side shields and wear them as regular glasses as well.
And with the rubberized temples and nose pads, you're sure to get an extra level of comfort, allowing your loved one to perform with greater ease.
They are also made from TR-90 nylon for durability while being extremely lightweight.
All in all, these goggles are sure to give your loved ones the safety they need while carrying out their various daily tasks being both ANSI and EU certified.
In conclusion
Different types of gifts can be meaningful to many different people. That's why, for Valentine's Day, we recommend that you send a strong and loving message, that is, that a person's safety is taken into account and matter.
With our high quality safety glasses, they are sure to feel loved and considered, especially with the thought that you put behind the gift.
So contact us! Inquire online or just give us a call – we have highly trained customer service representatives waiting to help you make this Valentine's Day special for your loved one.
About Us:
Rx Safety is an American manufacturer of affordable safety eyewear and performance eyewear. A family owned business, with a state of the art digital ophthalmology lab and online store offering affordable and high end safety eyewear, sunglasses and performance eyewear on the market. All safety glasses always meet or exceed ANSI Z87+ standards for high impact, to be safe and secure while working in any type of hazardous environment. In addition to standard safety eyewear, we offer a wide selection of prescription shooting and tactical eyewear, youth prescription sports eyewear, fishing and motorcycle eyewear designed and tested to meet our high standards. As an authorized distributor of Wiley X, Bobster, ESS and BodySpecs, Rx-Safety.com offers a full line of prescription safety eyewear direct from the manufacturer at wholesale prices. Feel free to call 732-356-1493 or email [email protected]
Like us: https://www.facebook.com/RxSafety/
Follow us: https://www.instagram.com/rx_safety/
Subscribe us: https://www.youtube.com/user/RXSafetyVideos/
Retweet us: https://twitter.com/RXSafetyEyewear/
Media Contact
Company Name: X-ray safety glasses
Contact: Ryan Phillips
E-mail: Send an email
Call: +1 732-356-1493
Address:123 Lincoln Blvd.
City: middlesex
State: New Jersey 08846
Country: United States
Website: https://rx-safety.com/